Steatite Transformer and Condenser Bushings
When high voltages must be passed through transformer and condenser housings, these bushings are often specified. They are available in standard terminal to base lengths up to 4-1/2 inches and can be supplied with or without hardware. Halves may be paired in varying combinations to provide flexibility for your applications. White glaze is standard with brown glaze and permanent marking available.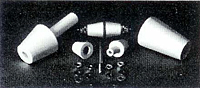 Steatite Transformer and Condenser Bushings Components
* These dimensions apply also to the individual insulators forming parts of " 0″ and "E".
NOTE: For added creep leakage protection in hostile environments, convolutions can be provided on the external glazed surface, Please consult with us concerning your needs.

Steatite Transformer and Condenser Bushings Assemblies